Transcendental Meditation and Professional Peak Performance
Free info seminar. Limited seating. Select your centre on the map at the bottom of this page to reserve your seat.
How can such an effortless technique bring so many benefits?
Transcendental Meditation (TM) is a very simple, natural, effortless mental technique that provides deep rest for the body and allows the mind to settle down to a calmer state where it can reconnect with its inner source of calm, happiness, intelligence and creativity.
It is the most practiced (6 million practitioners), most widely researched (350 published studies), and, according to the research, the most relaxation technique in the world.
Ray Dalio calls TM 'the single biggest influence' on his life. He offers this simple stress-management technique to all his employees and comments:"it's the greatest gift I could give anyone — it brings about equanimity, creativity and peace."
Ray Dalio, Founder of Bridgewater Associates, the world's largest hedge fund ($150 Billion under management)
On this page you will discover why it's so effective, both for companies and for individuals:
Deep rest removes deep stress
True happiness from within
Measurable brain development
Fundamental health benefits
Easy to do
Free introlecture: do you have 90 minutes to discover how everything can change?
Transcending = Deep rest removes deep stress
We all know that we feel a lot happier when we are rested. Yet many of us feel tired, even when we wake up in the morning. The superficial fatigue might have been eliminated by sleep, but when deeper stress and fatigue are present, then a deeper level of rest is needed to feel fully revitalized.
Scientific research done at Harvard Medical School shows that Transcendental Meditation can provide a rest much deeper than sleep, and can provide it exceptionally fast.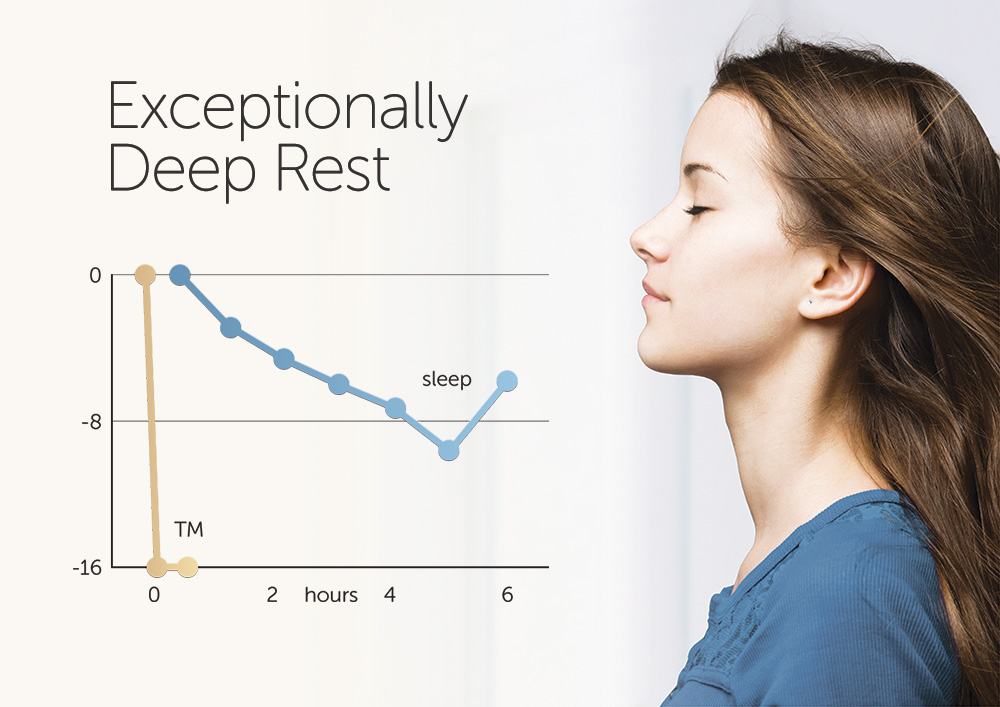 Ref.Science 27 Vol. 167 no. 3926 pp. 1751-1754 1970
Scientific American 226:84-90 1972
Jerry Seinfeld – "Like your phone has a charger…TM is like a charger for body and mind"

British Foreign Secretary William Hague has been practicing the Transcendental Meditation technique for over 30 years. He said that he always clears twenty minutes for TM twice a day from his busy schedule for a very practical reason: "It calms me down, I have less headaches, and I sleep better."
William Hague, British Foreign Secretary
Transcending = True Happiness from within
This deep rest eliminates deep stress and fatigue and allows our body to get back to a normal healthy functioning. And because this is such a fundamental need for the body, the transformation that people experience is also very fundamental. The scientific research below shows for example how the natural production of serotonin, our "happiness hormone", naturally increases.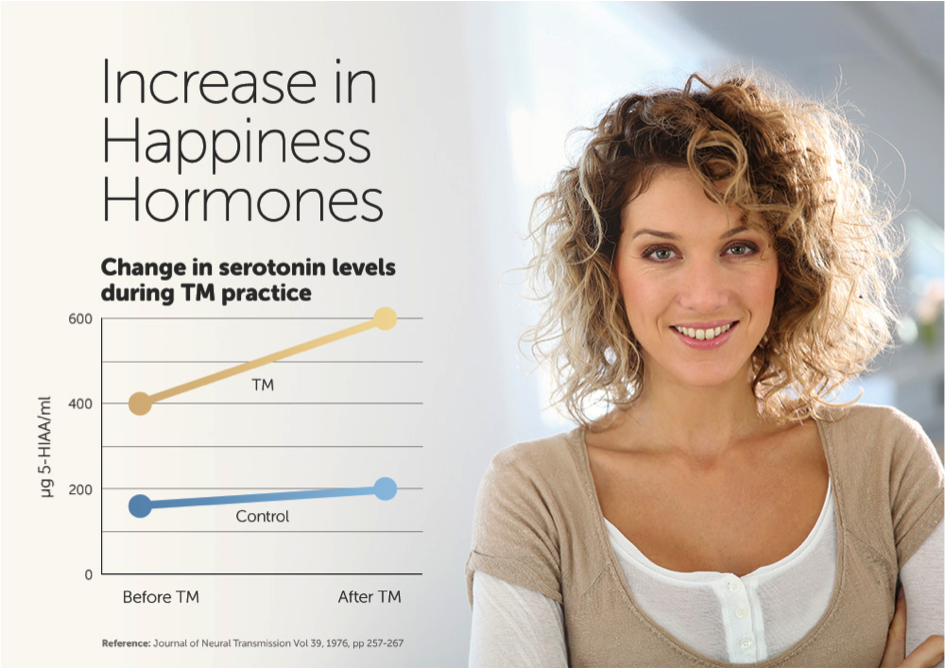 Many people are looking for ways to feel happier and turn their life around with the underlying assumption that happiness is something that comes from other people or external things – people consider changing partners, changing jobs, buying something new etc. While all these things can obviously influence how we feel, our most fundamental happiness comes from inside of us.
While the body experiences the uniquely deep rest created by TM, the mind settles down to a calmer state where it can reconnect with its inner source of happiness, pure consciousness. We enliven these qualities while we meditate and the real benefits are felt afterwards, when this most fundamental happiness, but also intelligence and creativity, can benefit everything we do and everybody we interact with.
"For me, meditating is one of the most direct ways to reconnect with oneself."
Arianna Hufffington, co-founder and editor-in-chief of The Huffington Post
David Lynch – "True happiness lies within"

Transcending = Measurable Brain Development
Transcending not only has an effect on our health, our well-being, our self-esteem and our relationships, but it also influences our brain development, even in adults, whose brains are supposedly already fully developed. One of the ways in which science measures brain development is through EEG coherence: how coherently are the different parts of our brain working together.
Here's a video where you can see how EEG coherence rises to a maximum during the TM practice.
The more someone has this experience of high EEG coherence, the more the brain gets used to optimal functioning, after which the EEG coherence outside of the TM practice rises as well. A higher EEG coherence is associated with higher IQ, more creativity, more emotional stability, better concentration, more ethical thinking, etc.
Ferriss does Transcendental Meditation and said, "I find that meditation is very helpful for avoiding anxiety and it's the reset button for the rest of the day… it's basically a warm bath for your brain."
Tim Ferriss, author of The 4 Hour Work Week
Transcending = fundamental health benefits
The fundamental transformation we create in this way has an enormous amount of side-benefits, and more than 350 scientific studies on TM have been published in the past 50 years documenting these benefits. TM has been shown to relieve many stress-related health issues, improve mental potential and improve our relationships. Many governments have started to implement this simple, very effective technique in their school systems, including the European Union which recently provided a €0.5 Million grant for a program bringing TM to schools. Many national health organisations are now also formally recommending doctors to consider prescribing TM, for example the American Heart Association in the context of treating high blood pressure.
"No other 'stress management technique' has anywhere close to TM's amount of hard data in support of its claims to reduce stress."
Norman Rosenthal, MD, U.S. National Institutes of Mental Health
In the video below, Dr. Suzanne Steinbaum comments on the unique health benefits of Transcendental Meditation to reduce stress and improve heart health.

Transcending = Easy to do
Many people have tried some form of meditation and have found it difficult to do. The good news is that TM is very different. It is a very simple, natural and effortless technique, that doesn't require any concentration or control of the mind.
"TM is the easiest thing I have ever done, not just the easiest meditation but the easiest thing."
Cameron Diaz, Actress
Lesley Seymour: "I find it really quite easy. I meditate on trains, in MRI-machines and on bad flights."

Free introlecture: do you have 90 minutes to discover how everything can change?
TM is a do-it-yourself technique. You receive a detailed training from a certified TM teacher and afterwards you can do it yourself for the rest of your life. TM is taught individually in one hour. This personal instruction is part of a 4-day course and several months of follow-up.
Certified TM teachers have received years of training, including 5-months full-time in residence to ensure your course will be at the highest level.
To meet your teacher, to learn more about the technique, to have all your questions answered and to schedule a TM course, you can just sign-up for an intro talk below. The talks are free, but seats are limited so sign up to make sure you can attend and learn more about how you can transform your life. Just fill out the form below, or select your nearest city on the map below.
Register for a free no-obligation introduction seminar